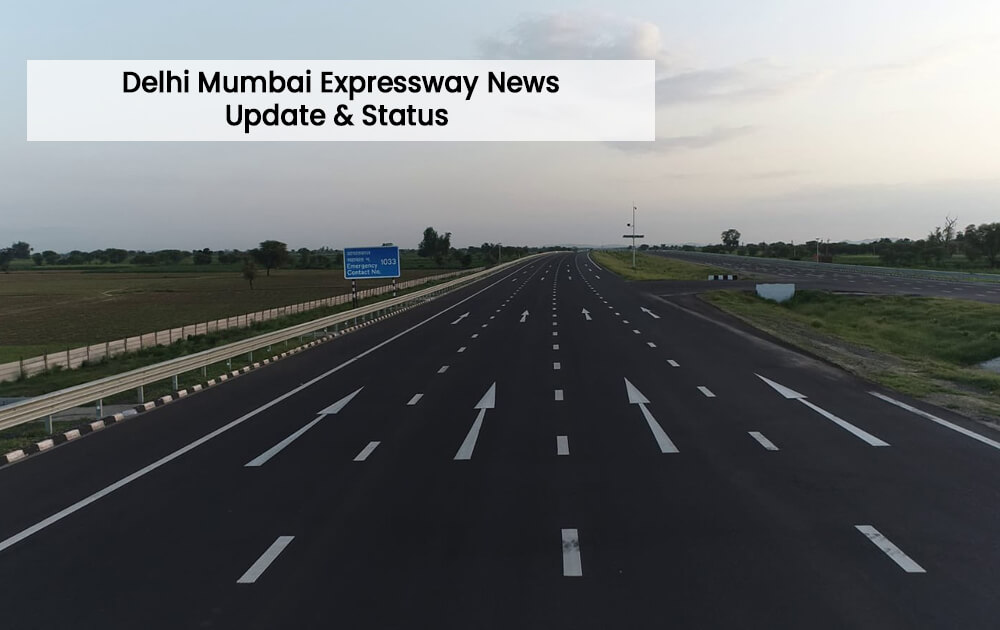 Delhi Mumbai Expressway News Update & Completion Date
Delhi Mumbai Expressway In an announcement made recently by the Union Minister for Road Transport and Highways Nitin Gadkari, it was revealed that the Sohna-Dausa stretch of the Delhi Mumbai Expressway would get its official inauguration on February 12th. It is set to be inaugurated by the Prime Minister of the country, Mr. Narendra Modi.
As a result of the opening of this new expressway, Gadkari says the travel time between Delhi and Jaipur will be shortened by two hours.
As Nitin Gadkari tweeted, "Changes have been made to the date. On the 12th of February, the Hon'ble Prime Minister Shri Narendra Modi Ji will inaugurate the Sohna-Dausa stretch of the Delhi Mumbai Expressway that will run from Sohna to Delhi."
Previously, Gadkari had tweeted, "The Sohna-Dausa stretch of the #Delhi_Mumbai_Expressway will allow commuters to get to Jaipur in two hours from Delhi.
Delhi Mumbai Expressway Salient Features :
8-lane access controlled Greenfield Expressway.
Scope for future expansion up to 12-lane Expressway.
Reduced travel time from 24 hours to 12 hours through alignment.
Distance reduced to 1242 km from 1424 km (180 km).
15,000 ha land acquired in 5 states.
A number of amenities will be added to the 94 Way Side in order to improve commuter comfort.
40+ major interchanges provide connectivity to Kota, Indore, Jaipur, Bhonal. Vadodara. Surat.
A dedicated corridor of 3 meters wide will be available for laying utility lines, including Optical Fibre Cables, Pipelines, and Solar Power Generation Systems.
Rain Water Harvesting at 500m intervals at over 2000+ water recharge points.
State-of-the-art automated traffic management system.
There are reports that the National Highways Authority of India (NHAI) will not collect tolls for the first 5-7 days following the completion of the completed expressway stretch after it opens. It was also mentioned that when tolling starts, a side trip in a car would cost around Rs 390 when tolling starts.
It is one of the most expensive and ambitious infrastructure projects in the country, extending over a distance of 246 kilometers. The section between Delhi and Darusa-Lalsot has been inaugurated today, reducing the travel time between Delhi and Jaipur from four hours to three hours.
In terms of connectivity to Delhi, however, while the Sohna-Bonli stretch of the expressway connects to Gurgaon Expressway and Sohna Road, on the Dausa end, there is already an Agra-Jaipur NH connection to the pink city. The maximum speed limit on the expressway from Sohna to Dausa is 120 km per hour, which means commuters can cover the 180 km stretch of road in one and a half hours.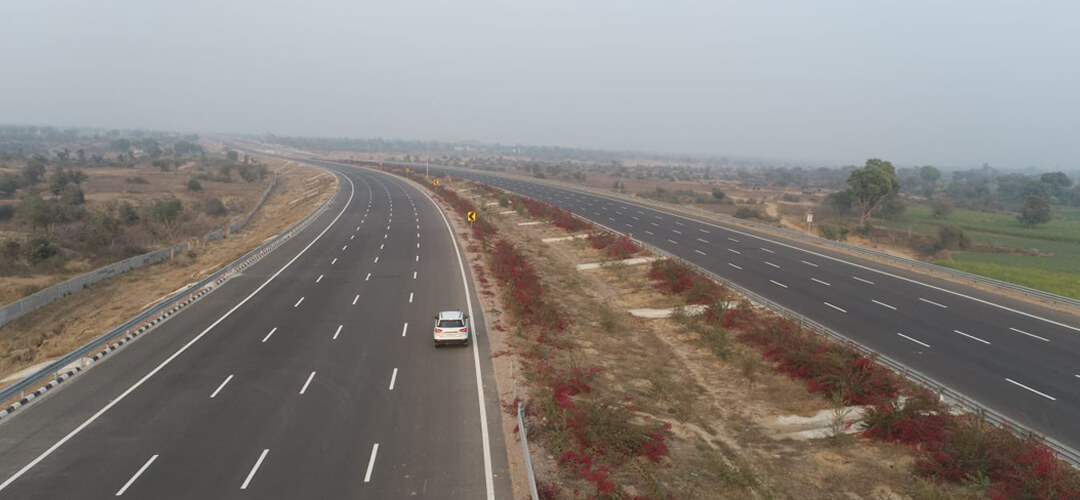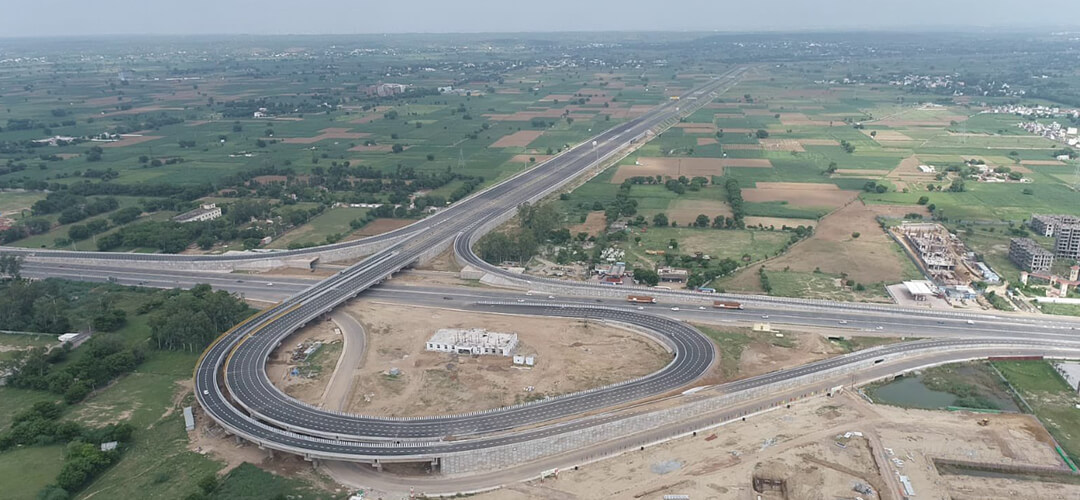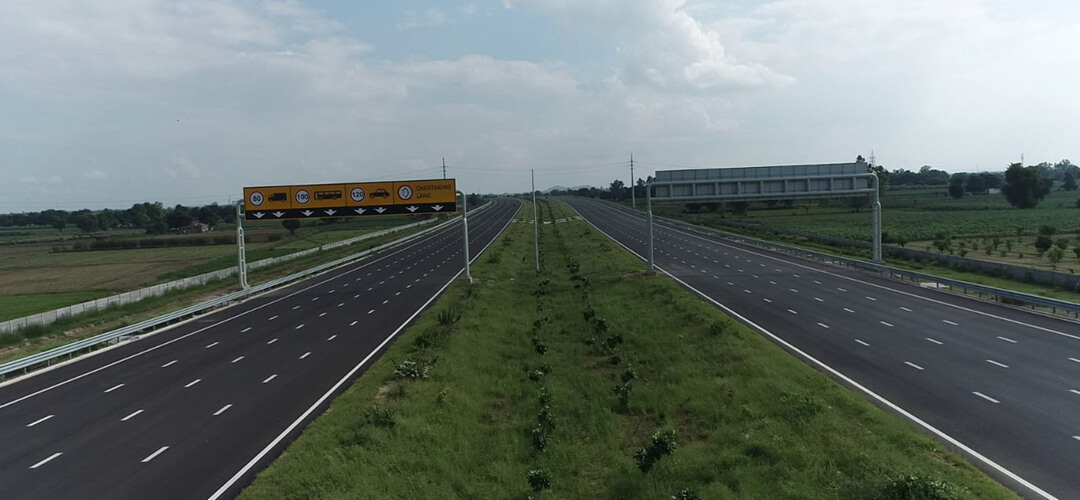 The overall travel time between Dhaula Kuan and Jaipur can be estimated as four hours in total using the Gurgaon Expressway, Delhi Mumbai Expressway, and Agra-Jaipur NH. A total of two new connections will be completed by the end of 2024, which will allow commuters to get the most benefit out of the expressway – a 60 km road from the Delhi-Noida Direct (DND) Flyway to Sohna, and a direct access-controlled connection from the Delhi Mumbai expressway to Jaipur.
Layout Of Delhi Mumbai Expressway
Initially, the expressway will consist of four lanes on each side, but if needed, it can be extended to six lanes on each side. On the route, exits and entries will have two lanes each.
Which Cities are Connected to the Expressway?
This new expressway will not only connect Mumbai and Delhi, but also Gurugram, Ranthambore, Mewat, Ratlam, Kota, Vadodara, Surat, and many other cities along the way. Haryana, Rajasthan, Madhya Pradesh, Gujarat and Maharashtra will all be crossed as part of this project. As a result of this, several businesses should be able to benefit as well as travel between these two cities should be easier.
No Entry Toll, Only Exit Toll
At the entry point of this expressway, there will not be any toll charges involved like there would be on most toll roads in India. Tolls will be calculated based on the distance travelled on the toll route and toll booths will be placed at each exit along the route for the purpose of collecting tolls. When you get off the expressway to go to Surat, your toll is paid at the exit booth, not when you join the expressway. The toll entryway snarls will also be reduced with this approach to collecting toll charges.
According to reports, tolls will be calculated at 65 paise per kilometre, which would come to less than Rs 900 for the whole journey from Delhi to Mumbai. Compared to that, the Agra-Lucknow expressway charges Rs 2.45 per kilometre.
Overpasses Through Major Forests
Additionally, the government is working to ensure that the expressway does not disturb or displacing wildlife. Green overpasses are located every three and a half kilometres when passing through such areas. A series of tunnels would appear to road users as a series of structures that would provide safe passage for wildlife over the expressway.
As part of the expressway construction, the expressway will run through a number of environmentally sensitive areas. These include Ranthambore National Park, Boondi Ramgarh Tiger Reserve, and Kota Mukundra Hills Tiger Reserve. It will be the second largest green overpass in the world.
Medical, Rest & Food Facilities on All the Way
Every 100 kilometres on the Delhi-Mumbai expressway, trauma centres will provide proper care to those who are injured or need medical care. Each side will have a food and rest centre every 50 kilometres. There are 93 rest stops along the 1,350km stretch, nearly three times more than just two every 50km.
FAQ
When will the Delhi Mumbai Expressway be completed?
It has been reported that the Sohna-Dausa stretch of the Delhi Mumbai Expressway First Stretch will open to the public on 12th February 2023. Narendra Modi will inaugurate the stretch. According to Gadkari, the Delhi-Mumbai expressway will be completed in 2024.
What is the status of the Delhi Mumbai Expressway?
In a report given to the media by Swarajya, it is revealed that 610 kilometres of the 1350 kilometre greenfield Delhi Mumbai expressway have been completed so far.
What cities are connected by the Delhi Mumbai Expressway?
Dausa, Kota, Ratlam, Vadodara and Surat will be the access points for this Expressway.
What is the status of the Delhi Mumbai Expressway construction?
Currently, the stretch starting from Sohna to the state border is being worked on in three packages, and much of it has been completed. It is 94% complete on the first 18 km, and 94% on the next 29 km. The work is 98% complete in the last 32 km.
How fast will the Delhi Mumbai Expressway go?
This Expressway has a maximum speed limit of 120kmph.
Does the Delhi Mumbai expressway allow Two-Wheelers?
As per the press release, the use of two wheelers is not permitted along access controlled expressways because of good industry practice and codal provisions. This is for the safety of two-wheelers and other road users.
FOR ANY QUERIES FEEL FREE TO REACH OUT TO US AT CONTACT US